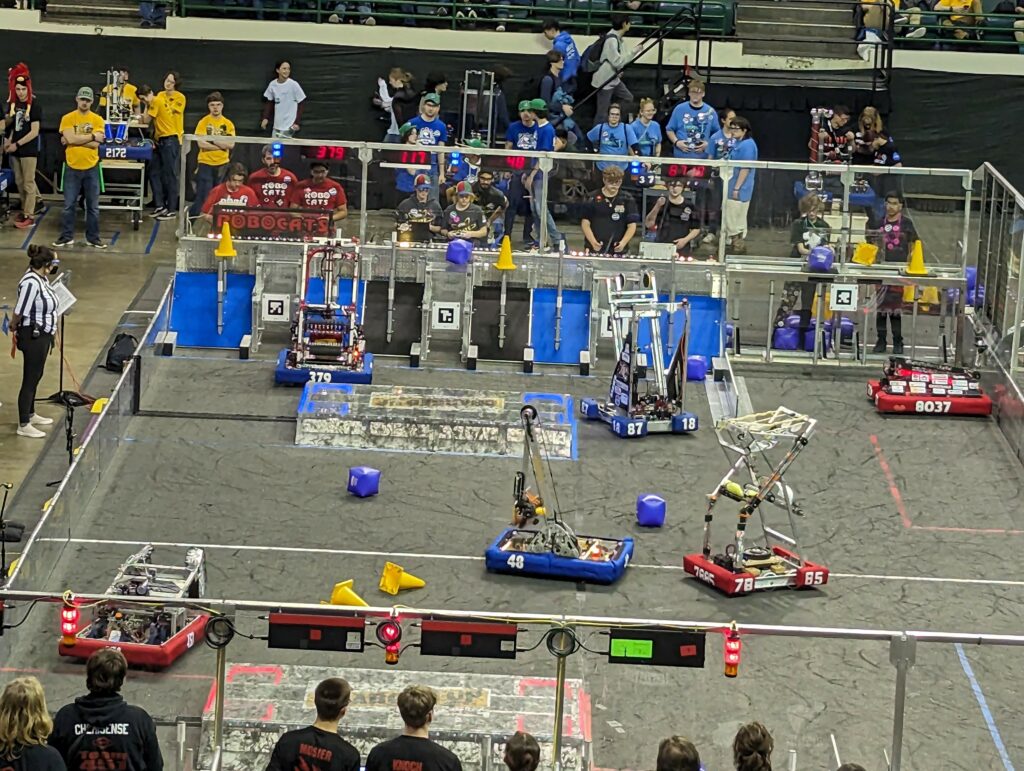 High school FIRST Robotics teams from all over Ohio and Pennsylvania and as far away as New York and Wisconsin competed March 30 – April 1 at the 2023 FIRST Robotics Buckeye Regional.
Five local high schools, including Warren G. Harding, were represented among the 52 teams. Harding's Team 48, Team E.L.I.T.E. went 8W-2L in qualification rounds ranking 8th and then seeding 3rd for the elimination rounds after being selected by Team 4611, OZone Robotics, from Delaware, Ohio.
Team 379, the RoboCats, from Girard, Team 2010, the Lightning Bots, from Champion, Team 4601, The Circuit Birds, from Canfield, and Team 8718, Tigerbotics, from Howland were also well represented.
Team E.L.I.T.E. also brought home the Creativity Award sponsored by Rockwell Automation. The Creativity Award celebrates creativity that enhances strategy of play and was intentionally designed and not discovered. The team earned the Creativity Award for their 3 jointed arm that prioritizes a low center of gravity and the ability to swing through the robot allowing them to acquire and score game pieces from the front and back of the robot.
Team E.L.I.T.E. improved significantly since their first appearance this year at the FIRST Midwest Regional in Chicago, Illinois. There the team ranked 24th in qualification rounds and ended the event in 3rd place alongside their friends, Team 379, The RoboCats, from Girard. This year's team of 35 students is roughly 80% new to the FIRST Robotics Competition.
OZone Robotics went on to select Team 3201, Ross Rambotics, from Hamilton, Ohio to round out their 3-team alliance and later picked up Team 5413, Stellar Robotics, from Shelby, Ohio as a backup team. The #3 alliance went 5W-3L in the Double Elimination bracket and finished off as Regional Finalists, bringing home a trophy and silver medals.
Here are the results for the other local teams at the event:
Team 379, The RoboCats, from Girard ranked 30th with a record of 4W-6L
Team 2010, The Lightning Bots, from Champion ranked 46th with a record of 3W-7L
Team 4601, The Circuit Birds, from Canfield ranked 35th with a record of 6W-4L
Team 8718, Tigerbotics, from Howland ranked 40th with a record of 3W-7L
In this last week of Regional Events, Team E.L.I.T.E., The RoboCats, and Austintown's Falco Tech will compete at the FIRST Greater Pittsburgh Regional April 6th – 9th at the David L. Lawrence Convention Center in Pittsburgh, PA. The event is free and open to the public.
The teams compete in the FIRST (For Inspiration and Recognition of Science and Technology) Robotics Competition which challenges High School students from around the world to build a new robot each year to compete in a new challenge. Teams are given roughly 6 weeks to design, protype, build, program, and test their robots before competing at events. This year's game is called Charged Up. Two alliances of three teams compete to score small traffic cones and inflatable cubes in their "community" on their side of the field. Near the end of the 2 minute 15 second match, teams then race to balance on top of their "charge port," a 4 foot by 8 foot balancing platform. The teams with the most points wins.