A photo taken by Mrs. Amy Engster inspired WGH's entry into the Ohio Department of Transportation's Paint a Plow Initiative.  Art teacher Mr. John Johnson walks by the photo of students at a football game that hangs in the school's library almost daily.  When thinking of the theme that his students and he wanted to present on the plow, Warren G.=Family, Mr. Johnson's mind kept going back to that picture.   With the picture in mind, Mr. Johnson and his students came up with the design for the plow and then spent the week designing and painting.  Congratulations to Mr. Johnson and his students for their amazing work and Thank You to Mrs. Engster for the inspiration.
The picture that inspired the plow's design: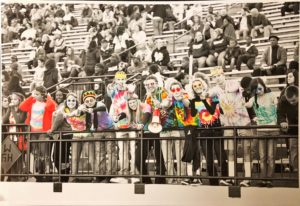 Pictured below are students from Mr. Johnson's Art Classes working on the Plow.