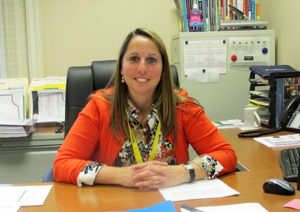 Welcome to the Warren City School District.  I am honored to be serving the Warren City School District as the Chief Academic Officer.  This is my 30th year in education, 28 years spent here in Warren.  My connection to Warren dates back further though, as I am a graduate of this great school system.  As an educator in the Warren City Schools I have been a Teacher, Elementary Principal, Middle School Assistant Principal and 6-8 Principal, Associate Superintendent and currently the Chief Academic Officer.  Through each of these experiences in our district it has given me a perspective to understand the academic needs of our students, develop community partnerships, and build opportunities for students to participate in career exploration as they develop skills for their futures.
The Warren City Schools is working with the support of the State Support Team (SSTR5) and the Ohio Department of Education to create goals and action steps to improve student academic success.  As a District Leadership Team we have created our District Focused Plan to address how we plan to achieve these goals.  Each of the five buildings have also developed a Building Focused Plan in alignment with the goals of our district.
I am excited to work alongside Dante Capers, the Associate Superintendent of Student Services, Student Wellness and Success.  Together we look at programs, climate and opportunities to support students to have the best experiences each day.  As we walk step in step the work between our two positions supports meeting the needs of the whole child. 
I believe in the success of the Warren City Schools.  Our district is committed to bringing out the best in each and every child and recognizes that strong schools are the foundation of a strong community. Each day we work on instructional strategies that are aligned with research based best practices and Ohio Learning Standards to give our students the best educational opportunities.  We want our students to be independent learners, taking responsibility for their choices in learning and in becoming caring, thoughtful, responsible members of the school community.  We are committed in having high expectations for everyone within the school community.  The W.A.R.R.E.N.  Acronym exemplifies what we want for our staff, students, parents and community members.  These traits (Work Ethic, Accountability, Respect, Responsibility, Effective Behavior and No Excuses) round out the total person along with the academic excellence the Warren City Schools offers.
I am proud to be a Warren Raider!
Mrs.Wendy Hartzell

Categories:
Associate Superintendent